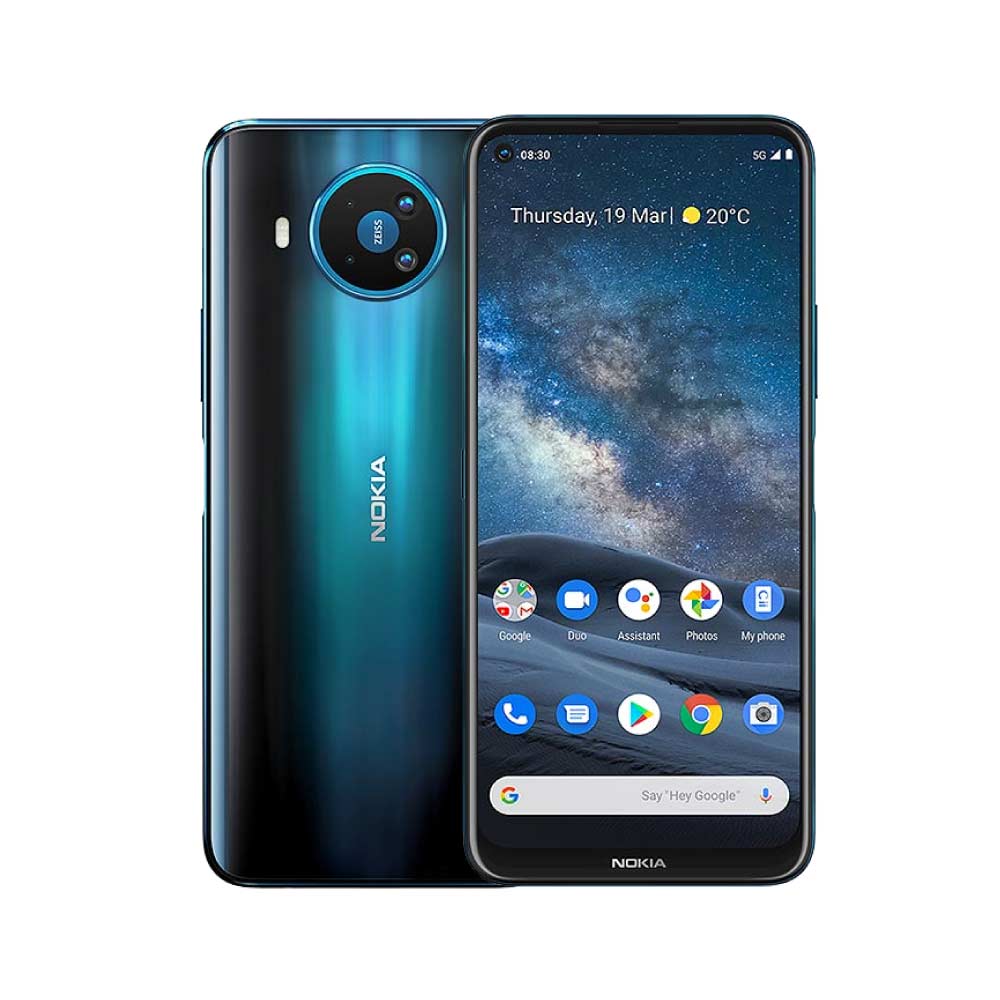 Towards the end of last year, we saw three new releases from HMD global, the Nokia 2.3, Nokia 3.4, and the Nokia 8.3 5G – the first Nokia 5G device to be launched. As the last phone to be reviewed for the year I was glad that it was a Nokia device. For me, they have always been the epitome of good solid builds along with pleasant and reliable performance. Rarely have I been disappointed.
The Nokia 8.3 comes with a massive 6.81-inch PureDisplay that is not only immersive but excellent for watching your videos, YouTube – anything content related. I know a lot of people find these larger phones very difficult to handle but with the thin design it fits comfortably in the hand and I rarely found it necessary to operate with both. From an operational point of view the fingerprint sensor is placed on the side which makes sense in a device so big.
One of the biggest selling points of the Nokia 8.3 is the 5G feature, mostly found on your more expensive devices. HMD Global have claimed that the Nokia 8.3 5G gives the best possible 5G connection being able to register on high, medium, and low 5G bands. From a future proof point of view this is vital, key – an incredibly impressive feature. Along with the 5G feature the Nokia 8.3 5G comes with Android 10 but is 11 ready. Featuring Android One the Nokia 8.3 will receive regular security updates and software innovations, future proofing this device even further. The only extra feature that I would have like to see here in terms of future proofing is a water-resistant rating. Considering the innovative camera and video features I feel like HMD Global may have missed the mark here.
From a performance point of view the Nokia 8.3 5G performed admirably. With 64GB onboard memory it does fall shy of what I would have liked but does have a memory card slot for a card up to 400GB. With 6GB RAM I experienced no lag, could multitask with ease, and found it fast and efficient. Tick on all those boxes! Battery wise I got more than a day battery out of the Nokia 8.3 5G – considering the large display and 5G capability I found this incredibly surprising and exciting. The long-lasting battery completely made up for the lack of fast charge.
Now to get to the icing on the cake – camera and video functionality. With Zeiss in the picture, I expected a few innovations and was not disappointed.
The basics: You get a 64MP Quad Camera – 64MP main,12MP Ultra-Wide, 2MP Macro and 2MP Depth. What's important to know is that your default camera will produce 16MP pics – you will need to go into Pro mode to get the full 64MP camera quality. Selfie wise you get 24MP shooter with plenty of Zeiss filter modes.
The camera features all the usual suspects – Slo-mo, Zoom, Hyper Lapse and Google Lens. Along with these you get Dual Sight which splits the screen so if you are recording you get both the front and back view – great for those BIG moments, those shareable moments, those Insta worthy moments. Touching on the recording the Nokia 8.3 5G allows for 4K recording. For recording the Nokia 8.3 5G has Action mode which increases the stabilization of your videos.
This camera is super easy to use, no fuss and quick on point photos. Whether you are capturing on the fly or changing between modes nothing could be easier and this is exactly what you want from a camera! Colour wise I found the colour representation from each picture taken very true to life. Portrait mode allows you to adjust the level of blur in real time so you know how your photo will turn out before you even capture it.
NOKIA 8.3 5G DEFAULT
NOKIA 8.3 5G BOKEH/PORTRAIT
NOKIA 8.3 5G ULTRAWIDE SHOT
The most innovative feature on the camera is the Zeiss developed Cinema Mode. This mode is dedicated to helping you create professional videos with Zeiss cinematic effects on your phone allowing you to create incredible visuals with ease – simply slide into the mode and press go. Done recording but need to adjust – no problems. Simply use the HMD Video Editor App to add Zeiss cinematic effects and adjust post recording.
And finally, my favourite feature was the customizable watermarks. If you need to send a specific message the Nokia 8.3 5G will help you do just that. It is a small feature but for me one of the features that made the biggest impact.
Unfortunately, it only comes with a 60HZ refresh rate which is rather disappointing considering most of the newer devices are releasing with 90 or 120Hz. That being said – if you are not used to the 90Hz or 120Hz refresh rate you will not notice the difference. Considering the price point I completely understand why HMD Global decided to cut on this feature.
Convinced? The Nokia 8.3 5G is available at our Cellucity retail stores and online from R499 per month on contract or R11999 prepaid.