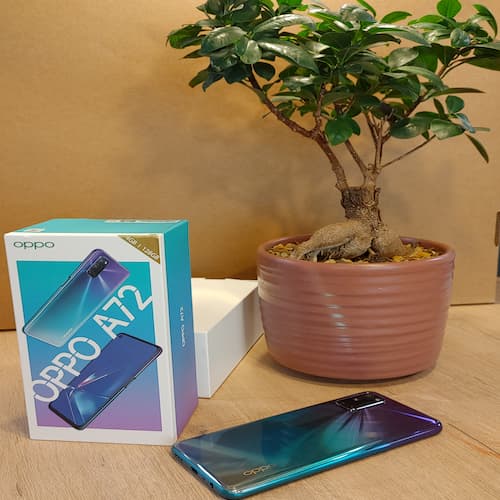 OPPO A72 – The Challenger Phone Of 2020
We are spoilt for choice when it comes to smartphones – we really are. The range of devices available nowadays in whatever budget or category will make your head spin. Quite often our starting points are budget and from there we look at brand. For me the interesting devices come from our challenger brands – brands just as good but not as forefront of mind as the better known or my prominent brands. Breaking into the market is never easy but I got to take the OPPO A72 for a spin and I have some thoughts.
OPPO as a brand has been around for many years, they were one of the main sponsors of the IPL and have been Australia's best rated brand for three years running. Not only that, it comes in at a decent price so if your wallet is under a bit of pressure but you still demand a great device which performs well across the board then OPPO is for you. It is the perfect balance between price, spec and design.
Off the bat I have to say that the OPPO A72 performs and does it well. The key and core functions you would expect from a device are done with excellent precision – you would be surprised to find out this was a budget focused device. The clear highlights are the camera and battery but this is an all round great device that's light on the pocket.
On the surface the OPPO A72 would not look out of place amongst your more expensive devices. Clocking a very impressive 6.5 inch full HD+ Display this phone is creeping on phablet territory. This enormous display has thin bezels so it looks the part. Coming in two beautiful colours the design is class and deserves to be celebrated. Yes the body is made of plastic but as you will discover, the price point more than makes up for this. Just on a side night – the plastic design makes the OPPO A72 very lightweight so if you use one hand to operate the device it's a lot easier.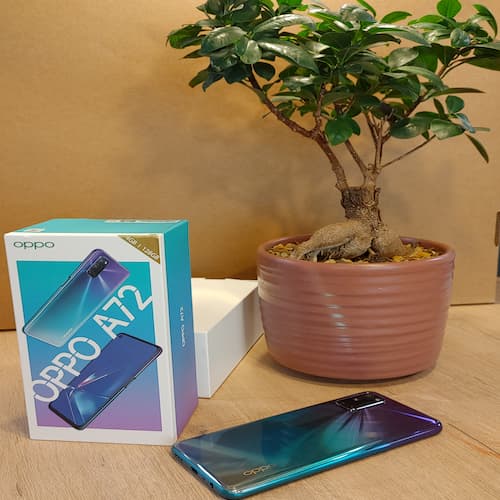 Although it only has a refresh rate of 60Hz as an everyday user this would not be a deal breaker. The colour reproduction on the device and performance whilst watching content is impressive – its immersive and vibrant. For gamers who may be worried about the experience a mid range device will give I am here to tell you not to.
I tested Asphalt 9 and really couldn't tell the difference between my higher spec device and the OPPO A72. Just a side note on gaming – the OPPO A72 comes with an easy to use screen record which is quick to activate so if you want to record that winning goal, crossing the finish line or just to look back and improve – you can. Obviously the screen record is useful for a number of other apps as well.
The sound on the OPPO is awesome. Coming with a stereo set up the quality, clarity and sharpness on the sound I think is rivalled only by your very top end devices and even then not by much. OPPO has also included a 3.5mm jack which is a great shout out to budget seekers and have also included the USB Type C charging port instead of falling back on the older micro USB slot.
Talking about charging the 5000mAh battery is probably one of the top highlights of this device. The device comes with a 18W fast charge brick in the box but when put to the test I have to say I managed to squeeze 2 days out the battery. This was with moderate use – if you multi task and really use your device to its fullest potential you will comfortably get one day out of the A72. I cannot stress enough that a 5000mAh battery on mid range device is really impressive. The OPPO also comes with numerous battery optimization tools to help you get the most out of the already impressive power.
Packed with a super respectable 128GB on board memory with memory card support the OPPO A72 also packed in 4GB RAM. So user experience was smooth and efficient whether I was watching Netflix, typing an email or playing a game. Operating on Android the OPPO A72 with its own user interface ColorOS 7.1.
I don't ever mention UI in my reviews as to most users it makes no difference. However with the OPPO A72 you get very cool extra features including privacy and an awesome App called OPPO Relax. With this app you get a range of music to help you relax, concentrate or sleep. Beautiful outdoor nature sounds or calming music is offered free of charge with this App. You also get a cool breathing app with this as well in case you have a particularly stressful day. Parental control is also a feature you will find on the OPPO A72.
And finally we save the best for last. The camera. The quad rear setup features a 48MP main lens, 8MP ultra-wide (119 degrees) lens, 2MP depth lens and 2MP B/W lens. Although the camera will take default shots at 12MP you can select the 48MP option very easily to always get the best shot.
The clarity and crispness of the shots were very surprising, not because it thought it would not perform but I did not know it would perform so well. I have reviewed many devices and I am convinced that you will not experience a better camera experience in terms of value for money. For what you pay you get a truly premium experience for the most part.
48MP Lens
The camera is easy to use, the bokeh and close up shots performed well. The colour boosted dazzle feature enhances your photos and is quite a cool added extra. The watermark works well but even better you can customize it to feature the OPPO watermark and your name or even your brand on the device. Quite cool for content creators or anyone doing some brand advertising.
Bokeh
Ultra Wide
The OPPO A72 features digital zoom which is not the top of the line, and I will admit the pictures were grainy but for a device this price you do not buy it for the zoom capability. For night shots I found using the flash worked well and more importantly worked quicker than the night mode. So for me that was a big win.
Close Up
Other honourable mentions include the 3 part security including face, fingerprint and PIN recognition. The fingerprint sensor was slightly lagged but the face recognition worked like a bomb. User experience was efficient and smooth.
Now we are all about honest reviews at Cellucity so here are a few features that are missing but again, for the battery and camera features these are small concessions. The OPPO A72 has no IP rating against dust and water, no wireless charging and no 5G. In the grander scheme of things no deal breakers here.
So, price? You get all the above for R6999 cash which includes a pair of OPPO's True Wireless Earbuds valued at R1299 and OPPO rewards (Valued at R1300) offering you extra goodies. Contract pricing starts from R399 per month over 24 months.
The OPPO A72 makes a compelling argument to sway away from the better known brands and quite honestly if I were in the market for a new device right now this would be on my radar. OPPO as a brand is definitely one to watch going into the festive season, I think it is going to make an impact and why wouldn't it – its not often you get presented with a budget friendly device that offers as much as the OPPO A72.